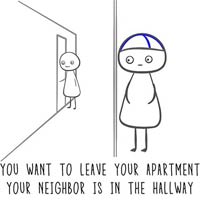 Finnish Nightmares That Every Introvert Will Relate To
Finland is often considered to be a nation of introverts, and the finns are usually the first to make of themselves about it. A funny series of Finnish Nightmares comics created by Finnish artist Karoliina Korhonen.

Famous Couples Illustrated By Ale Giorgini
Italian artist Ale Giorgini pays tribute to famous couples from popular movies, TV shows, comic books and cartoons by creating series of beautiful illustrations called "That's Amore". He uses a minimum of lines and lots of negative space trickery to create illustrations that are as… Instagram
Instagram did not return a 200.