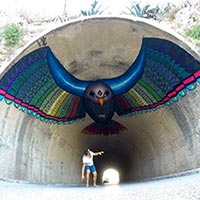 Giant Eagle Painted On A Tunnel's Roof In Spain
A beautiful colorful eagle painted on the roof of a tunnel in Ibiza, Spain by Mexican street artist Spaik. This beautiful piece of art was named "The Flight of the Eagle" done as part of the Bloop Art Festival in 2016.

Bald Eagle Having A Bad Hair Day
This bald eagle is having a bad hair day and has ended up looking more like scientist Albert Einstein than a bird of prey. Nature photographer Tim Boyer, who specializes in photographing birds, said he knew he had captured something special when the eagle flew… Instagram
Instagram did not return a 200.