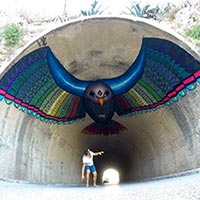 Giant Eagle Painted On A Tunnel's Roof In Spain
A beautiful colorful eagle painted on the roof of a tunnel in Ibiza, Spain by Mexican street artist Spaik. This beautiful piece of art was named "The Flight of the Eagle" done as part of the Bloop Art Festival in 2016. Instagram
Instagram did not return a 200.