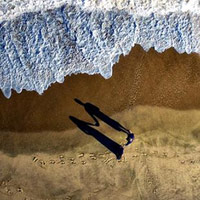 Perfectly-Timed Couple's Aerial Photo
Long interested in aerial photography, photographer Clayton Harper used a small-scale unmanned aerial craft to capture this vantage of him and his wife at sunset in Montauk, New York.

Giant Guitar Made From 7,000 Trees
An Argentine farmer named Pedro Martin Ureta, 70 embedded the giant guitar design into his farm as a tribute to his late wife who died in 1977 at the age of 25. Maybe Graciela Sees It From Heaven? This giant guitar landscaped out of 7,000… Instagram
Instagram did not return a 200.