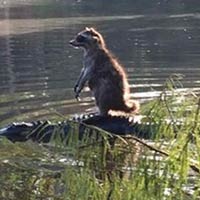 Brave Raccoon Hitches A Ride On An Alligator
The world's bravest raccoon hitches a ride on an alligator in Florida. Richard Jones was visiting Ocala National Forest when he spotted something strange in the Ocklawaha River — a raccoon riding an alligator.

Raccoon in a Suit
This little smiling raccoon wearing a beautiful suit and looks like he is going to a wedding. He is looking comfortable in his new suit and looking so happy.