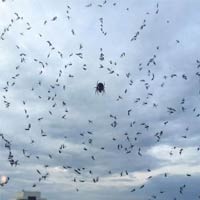 Dozens of Mosquitoes Trapped In Spider-Web
Dozens of mosquitoes trapped in the spider web. The interesting photo shared by Imgur user Tonicbrewmeister. It is like human-friendly spider because it is actually keeping you safe from malaria 🙂

IT Administrator Grows Spider-Shaped Beard
An IT administrator has sculpted his facial hair into the Spider-Man logo. Chad Roberts' spider beard won Best in Show at the second annual Garden State Beard and 'Stache Competition in New Jersey.

Giant 3D Spiders Painted on Buildings
Freelance scientific illustrator Marlin Peterson created these astonishingly creative and realistic paintings of giant eight-legged creatures over the rooftop of a warehouse in Seattle. The paintings normally appear as 2D images but they appear three-dimensional when viewed from a certain angle. Peterson used wire prototype… Instagram
Instagram did not return a 200.