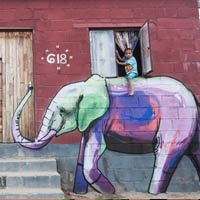 Elephant Graffiti Art In South Africa To Give People Hope
From the 13th of May to the 31st of October last year, Cape Town graffiti artist Falko painted his way across South Africa. His mission? To change the locals' perception of value. The project, called "Once Upon A Town," was photographed by Luke Daniel.

10 Examples of Extreme Transportation – Part 2
Previously I shared these 10 examples of extreme transportation and because of the popularity of that post I collected more photos of extreme transportation from all over the world. Let's take a look. Pakistan A laborer pulls a cart loaded with supplies while heading to… Instagram
Instagram did not return a 200.