Previously I shared these 10 examples of extreme transportation and because of the popularity of that post I collected more photos of extreme transportation from all over the world. Let's take a look.

Pakistan
A laborer pulls a cart loaded with supplies while heading to a nearby market in Karachi.


Vietnam
A man loaded all his goods on his scooter to be able to sell during the Vu Lan Festival.


Africa
A man checks the engine of a bush taxi carrying Christian people on a road 35 miles north of Bangui en route to the capital where they expect to sell some products on the market.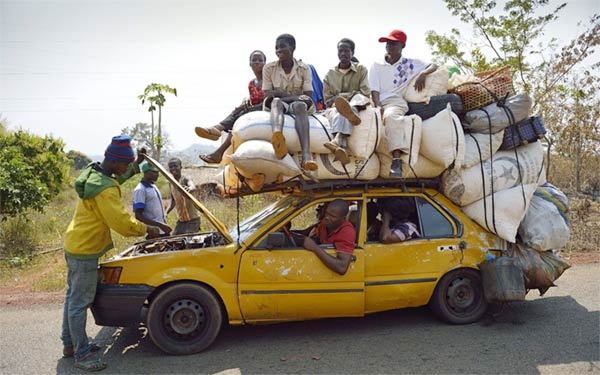 Eric Feferberg/AFP/Getty Images


Combodia
Garment workers leave a factory for home after a days work in Phnom Penh, Cambodia


Indonesia
A man carries fuel and rice on his motorbike as he drives through central Jakarta, Indonesia.


India
Indian students travel in a crowded bus during the morning rush hour in Bangalore, India.


Somalia
Somali refugees carry their belongings after their temporary shelters were destroyed by Somali soldiers at the Sarkusta refugee camp in southern Mogadishu.


Somalia
A heavily laden truck transports corn husks between Mogadishu and Afgooye in Somalia.


Combodia
Cambodians sit on a taxi roof while leaving the city to head to their villages on a street in Phnom Penh, Cambodia.


Myanmar
Rohingya Muslims ride a vehicle as they travel outside Sitttwe, Myanmar.
More Stuff For Your Inspiration:
Related posts