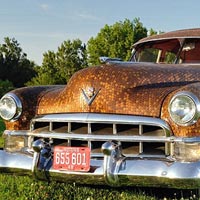 Classic Cadillac Covered In More Than 38,000 Cents
A family have literally flashed their cash by covering their car in more than 38,000 pennies. It all started When Larry and Theresa Thompson saw an advert for a 1949 Cadillac Series 62 back in 1999, they decided it couldn't hurt to take a look.

Chevrolet Car Decorated with 33,000 UAE Coins
Tariq Javaid, a long-time resident of the Emirates, had a dream to decorate a car in a way which no one has attempted before. As the momentous occasion of the UAE's 40th anniversary came closer, he decided to decorate his son's 1998 model Chevrolet Camaro… Instagram
Instagram has returned invalid data.