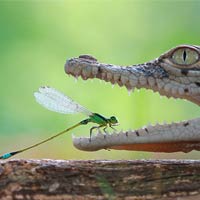 Daring Damselfly Rests Inside Crocodile's Open Jaw
A green damselfly decides to rest on a rather dangerous perch – a young crocodile's open jaw. The female crocodile was sunning itself when a brave insect decided to land on the reptile's head before moving down to its snout.

Lazy Damselfly Riding A Snake
A lazy damselfly uses a swimming grass snake as a perch as the reptile swims across a pond at Lackford Lakes Nature Reserve near Bury St Edmunds, Suffolk.

Daring Damselfly Landed on The Head of Chameleon
A daring damselfly was lucky not to end up as dinner after landing on the head of a chameleon. The insect seemed completely unaware of its precarious position as it took a moment to rest right between the eyes of the chameleon. But all ended… Instagram
Instagram has returned invalid data.