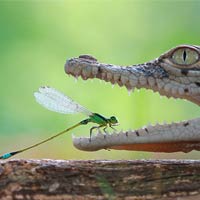 Daring Damselfly Rests Inside Crocodile's Open Jaw
A green damselfly decides to rest on a rather dangerous perch – a young crocodile's open jaw. The female crocodile was sunning itself when a brave insect decided to land on the reptile's head before moving down to its snout. Instagram
Instagram did not return a 200.