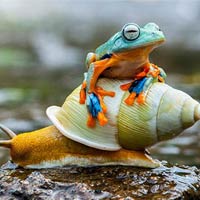 Lazy Frog Enjoys Life On The Back Of A Snail
A frog enjoys life in the slow lane as he hitches a ride on the back of a snail's shell in Jakarta, Indonesia. Also see how a frog riding a beetle like a cowboy for five minutes, even it tried to fly away. Instagram
Instagram did not return a 200.