Simplest Way to Unlock Your Samsung Galaxy Note 10 5G
Jahangir Agha, 4 years ago
6 min

read
1411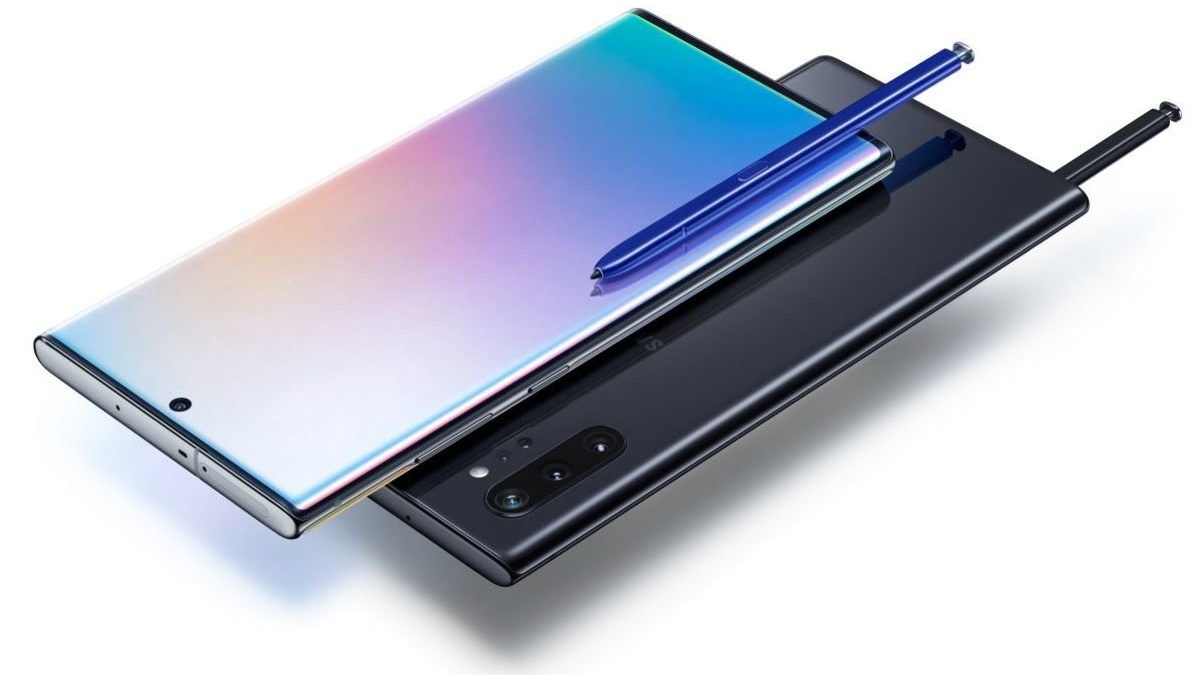 Samsung Galaxy Note 10 5G looks like one of the best smartphones released in 2019. Even though Samsung is working on amazing future devices, the Note 10 5G is a gadget to reckon with in terms of advanced features, look and feel, as well as user experience. That shows just how much work the company puts into place before releasing their flagship smartphones to the market.
Samsung Galaxy Note 10 5G just hit the market, middle of 2019, and the word is already out that it came with numerous improvements over the Samsung Galaxy Note 9, despite the fact that critics dismissed its highlighted features as nothing more than minor tweaks over those of its predecessor. There is a lot of truth in that though, but that's not entirely true, considering that Note 10 5G came with some feature upgrades that saw it convince many users to abandon their Note 9s for it. The lighter and better working, long-lasting battery, than the one on its predecessor is one of the features that many smartphone users are always keen to confirm before sealing the deal. The Note 10 5G S Pen came in with quite fascinating improvements, including having a wireless capability that makes it possible for users to control apps, including the camera, remotely and a few other tricks. The fingerprint sensor dazzles once with the Samsung Galaxy Note 10 5G release, locating it as part of the device display. There are several other tweaks that added value to the Note 10 5G and made it convincing enough for users to grab it.
As always with the new devices, flagship or regular ones, the Samsung Galaxy Note 10 5G makes no difference, many users will have theirs locked to the network of the service provider that will sell it to them. That's true because there are still very many searches on search engines such as Google, Yahoo! and Bing on how to unlock the Samsung Galaxy Note 10 5G. We have the same type of customers (the ones that will get the device on a financed plan and the ones that don't care if the device is locked or not) and we have those who're trying to get the unlock codes from their service providers but they're taken around in circles and eventually, they will give up.
Why Service Providers Lock Phones to their Networks
The fundamental reason why carriers such as AT&T, T-Mobile, Sprint, and Verizon among others ensure they lock the smartphones they sell to their networks is for nothing more than business. For every phone that's restricted to their network, there is a high probability that the user would subscribe to the carrier's services however uncompetitive they might be at any given time. This is normally a big kill for these service providers and that's why they're always more than ready to offer users friendly payment plans that spread over a period of time even as long as two years. Being locked to their network means more revenue for them.
If you ended up here because you were looking for a way to unlock your Samsung Galaxy Note 10 5G, you're in the right place. In this article, we share with you all the requirements necessary for you to unlock your Note 10 5G to make it usable with any SIM card of your choice, provided the given card's service provider has an operational network within that locality.
Below is the Procedure;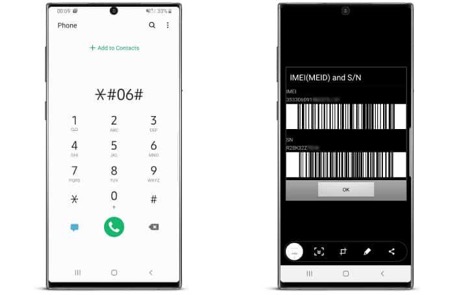 The first thing you need to get before you start the unlock process is the IMEI/IMEID of the Samsung Galaxy Note 10 5G you'd like to unlock. It's simple. Just go to your phones dialer and key in *#06# and call. The IMEI should be displayed on the screen as a pop-up. Write it down safely somewhere for use in the next step. If for whatever reason that process didn't give you the IMEI/IMEID, something quite unlikely, you can simply move to your phone's Settings page then to the Status option.
In the procedure we have here, we've chosen to use UnlockUnit as the company selling the unlock code. You must be wondering why we chose UnlockUnit yet there are many companies providing this service. Well, our choice for UnlockUnit is based on a long working relationship with them. During the time we've been working with them, success has been the definition of our engagement. The company has a professional customer service that's always available to answer questions within the shortest time possible and in the most satisfactory way. For that reason, we didn't want to leave you in a quagmire. We deemed it fit to point you to a reliable direction. Now back to the unlock process. Once you have the IMEI/IMEID of the Samsung Galaxy Note 10 5G you wish to unlock, visit the UnlockUnit's Note 10 5G unlock website page and follow the provided procedure. On the page, enter the IMEI of your phone in the IMEI text field, select the network your phone is currently locked to, provide an email address and then agree to the website's terms and conditions before hitting the "Unlock Now" button. If everything goes smoothly, which is the case more often than not, the unlock code will then be fired straight to the email address you entered.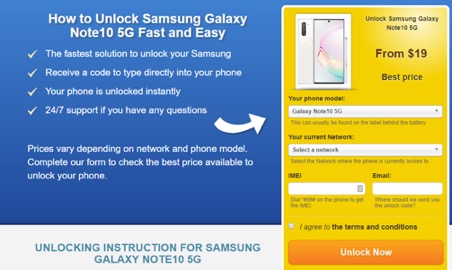 Use the Code to Unlock Your Samsung Galaxy Note 10 5G
Now you're ready to unlock your phone. Make sure you have with you another SIM card that's not currently accepted by your phone. Shut down the Samsung Galaxy Note 10 5G, remove the SIM card you're locked to and put in the one from a different network. Once that's done, turn the phone on and wait to be prompted to enter the unlock code. When asked, just enter the code and proceed. That should be it!
Conclusion
We are happy to provide you with the unlock information because we know how users are taken through unnecessary red tape whenever they want to unlock their phones through their respective carriers. The process is normally too tiresome to the level that some users never even bother to call their service providers. Those of them who already know about the companies providing unlock code choose to head there straight because they know the process is straightforward and fast.
UnlockUnit isn't limited to just Samsung Galaxy Note 10 5G though. If you have other phone brands or models, just go to their website and select the brand and model and start the unlock process. From the manufacturer select option, you'll see such companies as Samsung, iPhone, Motorola, LG, HTC, and several others. That shows you just how much you're spoilt for choice.
More Stuff For Your Inspiration:
Related posts