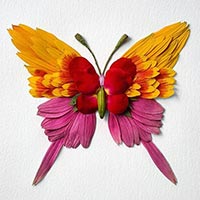 Natura Insects: A Series of Insects Made of Flowers
BUTTERFLY Montreal-based creative Raku Inoue arranges a variety of leaves and blooms to create the delicate components of butterflies, stag beetles, and other insects. For his series "Natura Insects" each delicately crafted floral arrangement transforms the earthy creatures into ethereal works of art. Instagram
Instagram did not return a 200.