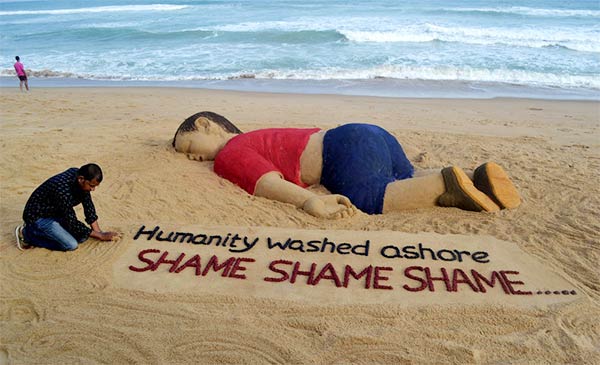 Indian artist Sudarsan Pattnaik works on a sand sculpture depicting drowned Syrian boy Aylan Kurdi at Puri beach, some 65 kilometers away from Bhubaneswar. The photos of the lifeless body of three-year-old Aylan Kurdi, lying on a beach in Bodrum, Turkey, have triggered a wave of emotion across the continent, despite deep divisions among European governments on how to deal with the crisis.
Charities helping refugees saw a surge in donations on September 4 across Europe as people shocked by the heart-rending images of a drowned Syrian boy on a Turkish beach dug deep to help out.
Also Check: World Artists Pay Tribute To Syrian Boy Who Drowned Off Turkey Coast
Photo by: Asit Kumar/AFP Photo
More Stuff For Your Inspiration:
Related posts Instagram
Instagram did not return a 200.