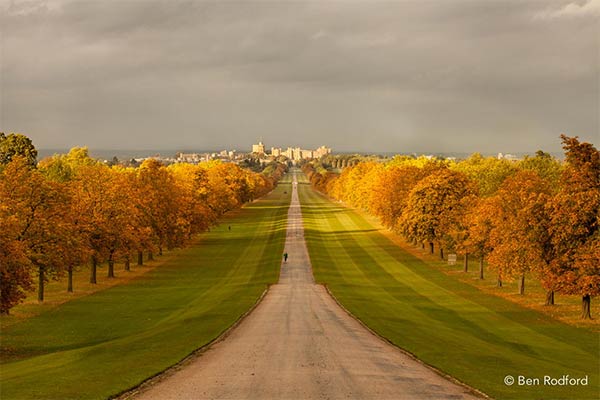 The Long Walk is a 4.26 km (2.65 mi) path that runs from Windsor Castle (seen in the distance) to the top of Snow Hill (where this photo was taken), which is located in Windsor Great Park.
Windsor Great Park is a large deer park of 5,000 acres (20 km2), to the south of the town of Windsor on the border of Berkshire and Surrey in England. The park was, for many centuries, the private hunting ground of Windsor Castle and dates primarily from the mid-13th century. Now largely open to the public, the parkland is often open as a recreation area for visitors between dawn and dusk.
The Long Walk was laid out by King Charles II and the planting of its trees was completed by William of Orange in the 1680s, with double rows of elms which lasted until World War II, but the Georges extended it and built numerous features and monuments, such as the Copper Horse (depicting George III) and the Obelisk (in honour of William, Duke of Cumberland). George III also had a set of 2,000-year-old Roman ruins imported from Libya and placed in the park.
via: wikipedia – photo by: Ben Rodford
More Stuff For Your Inspiration:
Related posts