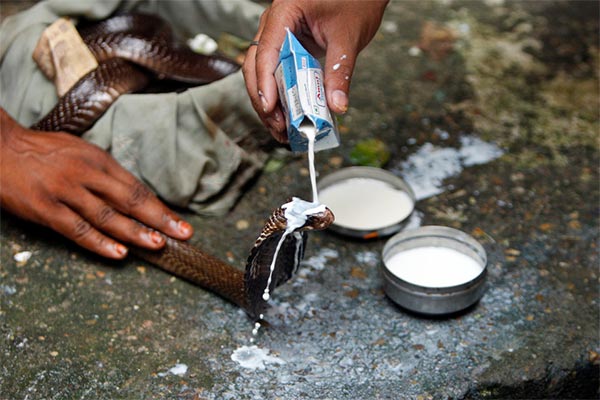 A Hindu devotee bathed a snake with milk during Nag Panchami festival in Jammu, India. The Hindu festival of Nag Panchami is a day dedicated to the worship of snakes.
Quickie About Nag Panchami Festival
Nag Panchami is a traditional worship of snakes or serpents observed by Hindus throughout India and also in Nepal. On the Nag Panchami day Nag, cobras, and snakes are worshiped with milk, sweets, flowers, lamps and even sacrifices. Images of Nag deities made of silver, stone, wood, or paintings on the wall are first bathed with water and milk and then worshiped with the reciting of the different mantras.
On this occasion doorways and walls outside the house are painted with pictures of snakes, auspicious mantras (spells) are also written on them. It is believed that such depictions will ward off poisonous snakes.

photograph by: Channi Anand – info: wikipedia
More Stuff For Your Inspiration:
Related posts