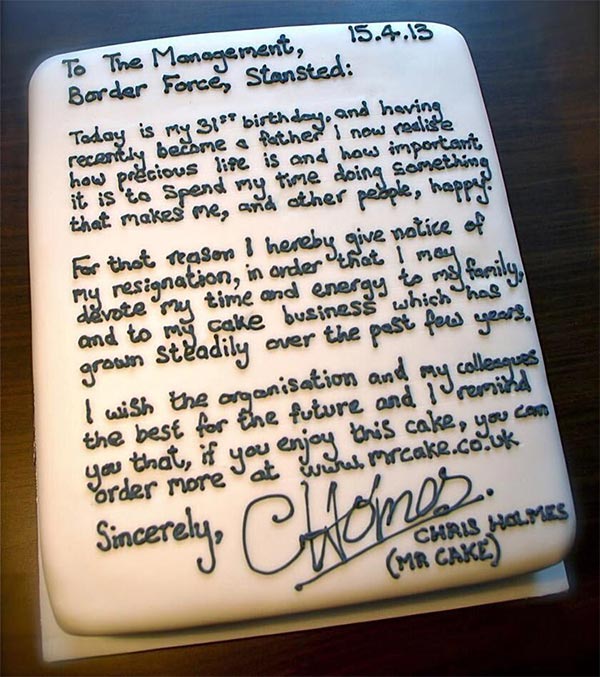 Christ Holmes, an immigration officer at Stansted Airport, recently resigned from his job and he decided to say goodbye to his coworkers in a creative way.
Holmes, 31, who lives in Sawston, Cambridgeshire, is otherwise known as Mr Cake, in the baking business that he has been building up in his spare time over the past two or three years. He arrived for his day job at Stansted on Monday with his large rectangular passion cake in a box – "a spiced carrot cake with pecans and sultanas and coconut" – and a resignation letter, and handed over both at once to the duty manager sitting on the podium behind the immigration desks. The manager and his colleagues "were surprised and amazed", Holmes says. "But they took it very well. It was a huge cake. Ten by 12 inches, with about 18 eggs in it."
He made it in two parts, splicing them together with orange icing. "The people who tasted it say it was very nice," said Toby Allanson, a spokesman for Border Force. "The writing was quite fiddly," he says (he had practiced on a sheet of paper). "I would have done it a bit neater if I'd known it was going to go viral."
[Source | Christ Holmes Website]
More Stuff For Your Inspiration:
Related posts Instagram
Instagram did not return a 200.