The Top 10 Most Popular Sushi Rolls
Jahangir Agha, 4 years ago
5 min

read
4030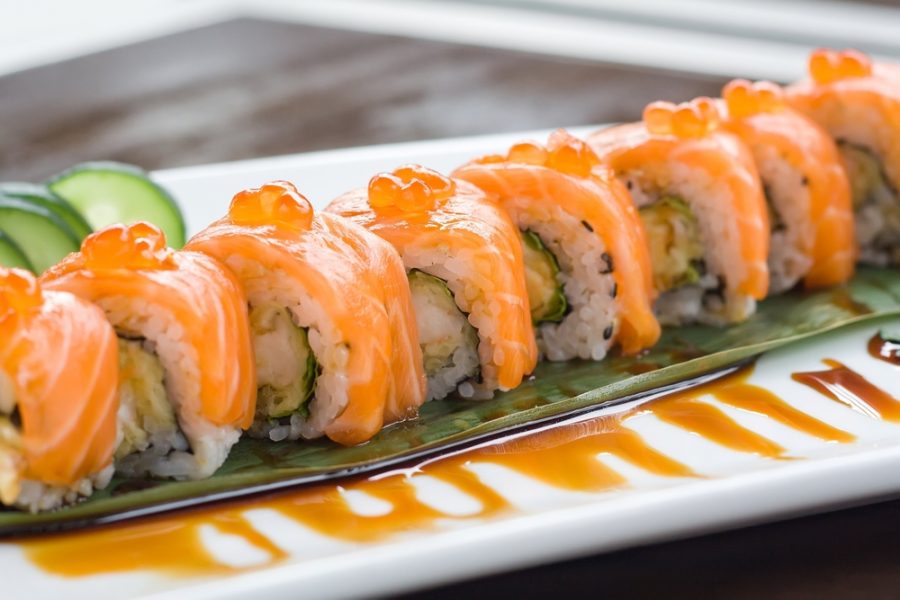 Over the last two decades, Japanese cuisine has become extremely popular around the world, particularly in North America. One of the most popular facets of Japanese cuisine, arguably even more popular than general Japanese cuisine itself, is sushi. If you take a count of sushi bars in your local area, I bet there are far more of them than there are traditional Japanese style restaurants. Sushi bars are so popular that it would be very difficult to find a town or city anywhere in North American that doesn't have one.
A major reason why sushi is so popular outside of Japan is due to the fact that the core ingredients within the dish are readily available everywhere. The nori sheets, which are the delicate wraps made out of edible seaweed, are produced in many countries outside of Japan. The main sushi fillers, which are predominately rice and varieties of fish and other seafood, are also readily available almost everywhere. Due to the fact that sushi ingredients are so easy to come by, the dish has grown into a universally loved phenomenon loved and celebrated by nearly every culture on earth.
The Top 10 Most Popular Sushi Rolls
1. Spicy Tuna Roll – This is arguably one of the most basic sushi rolls available. Almost every sushi restaurant that you enter is likely to offer this roll on their menu, as it is extremely popular. The primary ingredients include white sushi rice, spicy chili sauce, fresh tuna, and mayonnaise wrapped together in nori paper. If you order this in an upscale sushi restaurant you will be shocked at how delicious the fresh tuna is.
2. The California Roll – This exceptionally popular sushi dish can be found in nearly every sushi restaurant that you enter, regardless of whether or not you're in Paris, London, or Los Angeles. It is one of the more traditional style sushi dishes, featuring ingredients that include fresh crab, fresh cucumber, and delicious seaweed. Depending on the specific sushi restaurant that you order it from, it might include a special sauce of some kind. Despite being very simple, it is absolutely delicious.
3. The Dragon Roll – This is by far one of the more exotic dishes that you'll find in any sushi restaurant, however, it is an internationally renowned sushi favorite. The core ingredients include fresh crab meat, sliced or chopped cucumber, fresh eel meat, and soft white sushi rice. Typically, your run-of-the-mill sushi restaurant will serve the roll wrapped in slices of fresh avocado instead of the more traditional nori seaweed wrap. Despite what you might be thinking, eel meat tastes wonderful.
4. The Tiger Roll – You will find that this is another major menu staple of any well-known sushi restaurant. The core ingredients include sliced or chopped cucumber, sliced avocado, soft white sushi rice, and fresh shrimp tempura. The nori wrap usually isn't used with this sushi dish, instead, the shrimp tempura serves as the wrap. This well known international dish can occasionally feature some small variations depending on the unique sushi restaurant that serves it. This is one of the older sushi variants, having been around for at least 2-3 decades.
5. The Rainbow Roll – Yet another classic roll found in any sushi restaurant, this dish sort of uses the California Roll ingredients as a base then takes it into a different direction. As a final touch, the roll is always topped with a unique "catch of the day" fish variety and then wrapped in avocado slices. The reason it is called the rainbow roll is due to the unlimited variety of fish options that you can incorporate into the dish.
6. A Hot Night Roll – Rumor has it this unique twist on the California Roll was originally invented in an unknown San Francisco sushi restaurant. The core ingredients include spicy tuna, sliced cucumber, and a bit of fresh shrimp tempura. The customizable component of this roll is its hotness. Some people add extra chili sauce to it in order to dramatically increase the spiciness. Others dab it with wasabi sauce to stay more in-line with Japanese culinary norms.
7. The Hungry Roll – This is a simple yet absolutely delicious sushi roll recipe. The core ingredients include spicy tuna that is tightly wrapped with fresh shrimp tempura and a nori sheet. It's often called the Hungry Roll due to the fact that the high protein content can satisfy even the hungriest sushi aficionado, referred to more appropriately as a sushionado. You can buy huge stacks of them on one plate at most sushi bars.
8. The Spider Roll – Thankfully, you don't have to worry about this sushi roll being served with fresh spider legs. Instead, the core ingredients include sliced cucumber, fresh soft crab, and a bit of sliced avocado or lettuce. It is often accented with some plain or spicy mayonnaise or even a little red chili sauce. This sushi variant is thought to have been originally created several decades ago in Japan. Thankfully you can find it available at most sushi bars.
9. The Dynamite Roll – This is by far one of the more exotic sushi dishes available. The core ingredients include fresh carrot slices, red chili paste, cucumber slices, fresh bean sprouts, sliced avocado, and spicy mayo. The protein in the dish is usually fresh prawn tempura or fresh yellowtail fish. This unique roll is thought to have originated in the Octopus's Garden Restaurant located in Vancouver, Canada. It is definitely a sushi roll worth trying at least once.
10. The Philadelphia Roll – This particular sushi roll dish is massively popular throughout the United States and Canada. The unique list of core ingredients includes cream cheese, slices of fresh avocado, fresh salmon, and asparagus. The roll was not invented in The City of Brotherly Love, also known officially as Philadelphia. Rather, it is called the Philadelphia Roll or Philly Roll due to the fact that it often made with Philadelphia brand cream cheese. While it tastes delicious with any variety of cream cheese, Philadelphia brand cream cheese is particularly creamy and delicious.
SushiFork of Tulsa Hills offers the best custom, made-to-order sushi rolls and a fun, clean and exciting sushi dining experience in Tulsa, Oklahoma. SushiFork is sushi dining and sushi catering at it's finest.
More Stuff For Your Inspiration:
Related posts