This is how a Turkish couple celebrated their wedding, serving food to 4,000 Syrian refugees. The wedding took place in the southern Turkish city of Kilis, located on the Syrian border. Bride Esra Polat, 20 and groom Fethullah Üzümcüoğlu, 24 decided to use the money their families had saved for a wedding party to help those in need. Working together with Turkish charity Kimse Yok Mu, they took their place behind the counter still dressed in their wedding dress and spent the day feeding 4,000 refugees.
Üzümcüoğlu's father, an active volunteer at KYM, came up with the idea of his son and daughter-in-law sharing their special day with the refugees. He said, "I thought that sharing a big delicious dinner with our family and friends was unnecessary, knowing that there are so many people in need living next door. So I came up with this idea and shared it with my son. I'm very happy that he accepted it and they started their new happy journey with such a selfless action."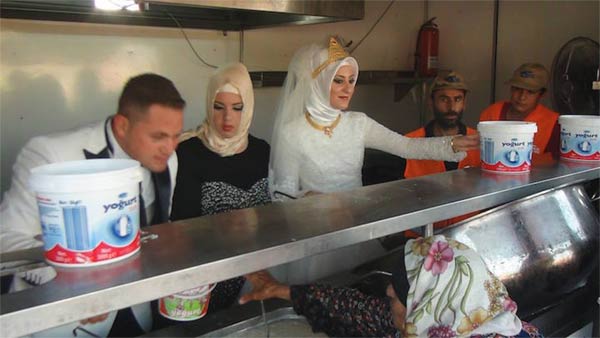 "It was such a wonderful experience. I am happy that we had the opportunity to share our wedding meal with the people who are in real need", Esra Polat.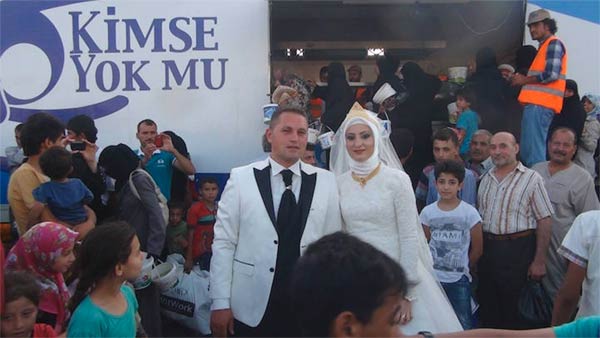 "Seeing the happiness in the eyes of the Syrian refugee children is just priceless. We started our journy to happiness with making others happy", Fethullah Üzümcüoğlu.
via: Independent
More Stuff For Your Inspiration:
Related posts